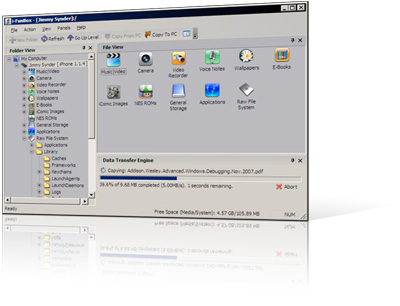 I use
iFunBox
a lot. This is a very useful utility for jailbreaked iPhones. Recently it was updated to version 0.7.224.86. Here is a download
link
.
What's New
:
1. Thumbnail view supported for wallpapers, camera and all
other
folders.
2. Support Symlink for the filesystem of
firmware
2.0. All .app can be listed in
Application
folder.
3. Downloading music and movie from iPhone with filename encoded with album name and artist name.
4. Support E-Books, converting plain text to UTF-16 automatically.
5. Support Book Shelf, converting plain text to UTF-8 automatically.
Limitations:
Uploading music and movie to iPhone is now disabled on devices with firmware 2.x.