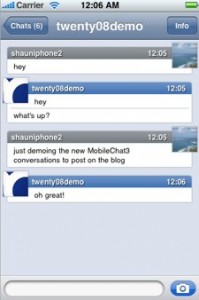 Both ApolloIM and MobileChat were jailbreak applications for chatting on the go with your iPhone/iPod touch. Alex Schaefer, ApolloIM's founder, has recently joined the MobileChat development team. In a blog posting by the developer of MobileChat, he said that both applications underwent "friendly competition" and that, while there was no clear winner in the iPhone IM business, users got the benefit from the ongoing competition.
Now that Alex has joined the other team, you can expect that MobileChat will only get better. The post goes on to mention that Alex will be working on stability and user experience for the application.
via tuaw
PS: As for me, I like Agile Messanger much better.