The PanguTeam has just released an update for their utility for untethered jailbreak of iOS 8 – 8.1. According to what the hackers write, this update contains important improvements and bug fixes for Cydia, Mobile Substrate, iMessage and Safari. Those who had problems with these apps or those who waited for the stable version of Pangu8 can now upgrade to iOS 8.1 and jailbreak their devices with no fear at all. Everything will work fine, the developers claim.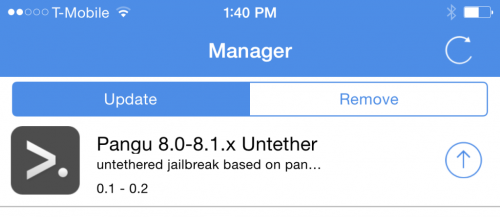 The incremental update fixes the Cydia Substrate loading issue upon reboot, iMessage picture sending, and Safari bugs. It's advised that all jailbroken users update now.
And now let's find out what one should do to update the jailbreak utility created by the Chinese developers. There's nothing complicated. You need to launch the Pangu app, which should be located on your Home screen and then you need to tap the Manager tab at the very bottom of the screen. One more tap on the arrow button and the download begins. After a while, your device will reboot and that means that the installation of the update for the untether is successfully finished.
Have you experienced any difficulties? Leave your comments below this post.
[via iDownloadBlog]