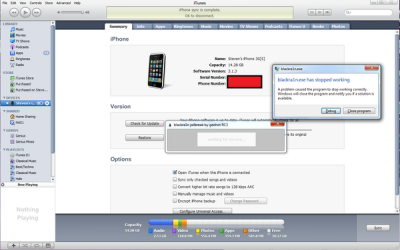 Yesterday iTunes update was found to have issues with those of iPod Touches and iPhones that were tethered jailbroken with blackRa1n. If you have one of these, you will be unable to rejailbreak your device after rebooting it with blackra1n. The problem is being experienced only by Windows users. iH8Sn0w has an explanation:
"Blackra1n hooks to the dll that has different offsets of what it is actually looking for".
To solve the problem iH8Sn0w released a blackra1n fix for a new version of iTunes. It's named BlackBreeze and it supports 32bit + 64bit Windows versions and can be downloaded here.  Please note that this fix is not an official update from Geohot. You can also try to replace new iTunes dll-files with the old ones or install  iTunes 9.0.3. The latter is available here (don't forget to uninstall the current version and reboot before the installing of another one).
Redsn0w reportedly works fine with the new iTunes 9.1. MuscleNerd twitted: