Apple has recently released iOS 7.0.6 to public. At the same time, the company from Cupertino seeded iOS 6.1.6 to users. Both updates contain a fix for SSL connection verification, so you should update your device. Be sure.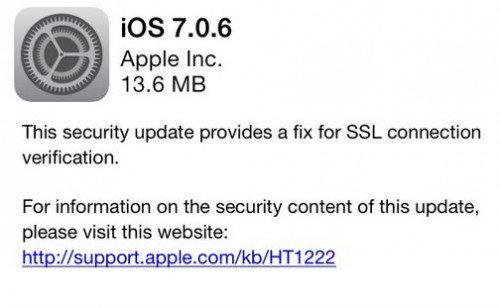 However, I recommend you to wait a bit, since Evasi0n7 1.0.5 isn't yet compatible with the latest iOS version. If you can't wait, you may look for unofficial patches for the jailbreak tool.
As noted by iDownloadBlog,
From the surface, it looks like iOS 7.0.6, which carries a build number of 11b651, just contains a fix for SSL connection verification. It is for all devices. And as for iOS 6.1.6, it carries a build number of 10b500, and is just for the iPhone 3GS and iPod touch 4G.
The previous version of Apple's mobile operating system was released at the end of January and contained a number of bug fixes and improvements.
One can download iOS 7.0.6 and iOS 6.1.6 via Software Update or through iTunes.
Related posts