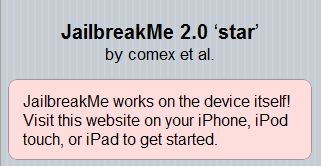 Starting today every owner of iPad, iPhone or iPod can easily jailbreak his device via browser on http://jailbreakme.com/
The site was created in a week after decision of the Library of Congress (that operates the Copyright Office), which states that jailbreaking isn't illegal, though Apple claims it actually represents a threat to the stability and security of the company's devices. Apple also says that jailbreaking voids the warranty, but such an action can be easily undone by resetting a device to the default factory settings.
Site JailbreakMe.com easily became a trending topic in Twitter after its announcement on RedmondPie.com. The jailbreak itself was created by hacker comex, and the website was done by chpwn and westbaer.
Related posts