It looks like Apple has started banning iPhone hackers from the iTunes App Store.
A few day ago Sherif Hashim, the iPhone developer and hacker, tweeted that he had found an exploit in the latest iPhone OS 3.1.3, which could enable the unlock on 05.12.01 baseband for iPhone 3GS and iPhone 3G. Yesterday he has been banned by Apple for the so called "security reasons". It seems that Apple is quite angry! Here is what Sherif gets when he tries to access App Store from his iPhone: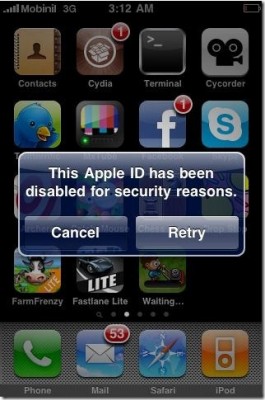 Sherif Hashim's Tweets:
"Your Apple ID was banned for security reasons", that's what i get when i try to go to the app store, they must be really angry ))))
and guess what my apple ID was, "sherif_hashim@yahoo.com", what a fool was me not to notice )), can't help laughing, they are babies ))
Another iPhone hacker named iH8sn0w, the developer of Sn0wbreeze (PwnageTool alternative for Windows), tweeted saying he was also banned by Apple right after he released an exploit known as XEMN:
@sherif_hashim lol, they did that to my ih8sn0wyday[@t]googmail.com too. (right after I posted XEMN)…
For now Apple isn't banning Jailbreakers – they're banning people who actively work to find exploits in the iPhone software to create Jailbreaks for the rest of us.