Earlier this week it was reported that iOS 7 doesn't encrypt email attachments, though it should. The only possible way out was not to detach important or confidential files to emails, but fortunately, another one appeared on Wednesday.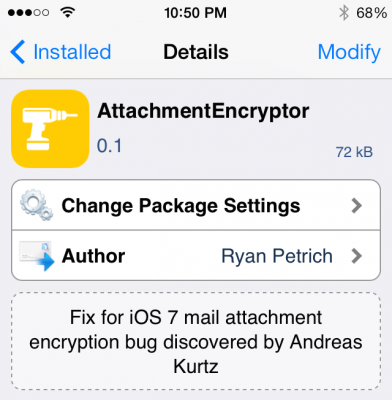 A developer named Ryan Petrich released a new jailbreak tweak that helps to fix the email encryption issue. This tweak is called 'Attachment Encryptor'.
Here's what iDownloadBlog reporters write about Petrich's creation:
Prominent jailbreak developer Ryan Petrich released 'Attachment Encryptor' this evening, a tweak that patches the aforementioned bug. All you have to do is install it and respring your iPhone or iPad.
The tweak is available for free via Petrich's beta repo. You can add it by entering 'Manage' tab in Cydia and hitting Sources and Add sections. After you select the last menu, you need to enter http://rpetri.ch/repo/. That's all.
I honestly hope that Apple will fix the issue in the next iOS version.