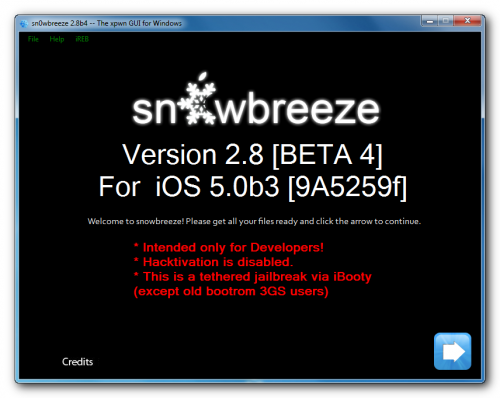 iH8Sn0w has released a new version of Sn0wBreeze 2.8 b4 with iOS 5.0 beta 3 jailbreak support. Sn0wBreeze is a so-called PwnageTool for Windows, an application that creates a custom ipsw with jailbreak preserving old baseband.
The jailbreak is tethered for iPhone 4, iPhone 3GS (new bootrom), iPad, iPod Touch 3G and iPod Touch 4G. Jailbreak is untethered for iPhone 3GS with old bootrom.
You can download Sn0wBreeze 2.8 b4 here.
sn0wbreeze v2.8 BETA 4 Release Notes:




---------------------------------------------
sn0wbreeze v2.8b4 -- For iOS 5.0 b3(9A5259f)
---------------------------------------------
* Intended only for developers (as usual).
* Hacktivation is disabled (again).
* MAKE SURE YOU UPDATE TO iTunes 10.5 BETA 3!
---------------------------------------------
Supported Devices/Tethered?
---------------------------------------------
iPhone 3G[S] (old bootrom)       [UNTETHERED]
iPhone 3G[S] (new bootrom)       [TETHERED]
iPhone 4 (GSM)                   [TETHERED]
iPhone 4 (CDMA)                  [TETHERED]
iPod Touch 3G                    [TETHERED]
iPod Touch 4                     [TETHERED]
iPad 1G                          [TETHERED]
---------------------------------------------
Those wondering, the jailbreakme exploit
cannot be integrated into applications
such as PwnageTool/redsn0w/sn0wbreeze.
---------------------------------------------
redsn0w seems to be having sandbox errors
due to it using the old b1 kernel.
I and many others have not seen any issues
with sn0wbreeze related to AppStore apps.
If you prefer to use redsn0w, I am sure
@MuscleNerd is working on a fix.
---------------------------------------------
Download --> http://is.gd/sb28b4
---------------------------------------------
// iH8sn0w
Related posts