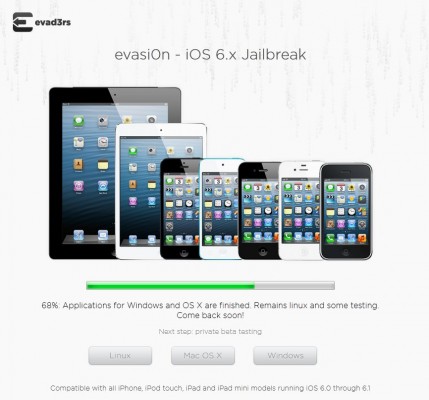 The Evad3rs Dev-Team has launched an official website for the jailbreak of iOS 6.1, called 'Evasi0n'.
The official evasi0n 6.1 jailbreak: http://evasi0n.com — Check regularly for updates! #evasi0n
The site currently indicates the following status:
68%: Applications for Windows and OS X are finished. Remains linux and some testing. Come back soon!
Next step: private beta testing
A progress bar indicates the team is more than half way done the jailbreak. According to the team new Evasi0n untethered jailbreak is compatible with all iPhone, iPod touch, iPad and iPad mini models running iOS 6.0 through iOS 6.1.
The new team of hackers consists of Pod2g, Planetbeing, MuscleNerd, and Pimskeks. Following the release of iOS 6.1, Planetbeing confirmed that their untethered jailbreak works with the firmware and MuscleNerd hinted that the jailbreak could be released on Sunday.