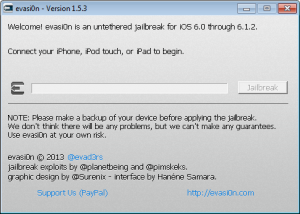 The Evad3rs have released Evasi0n 1.5.3 – an updated version of utility for iOS 6.0 – iOS 6.1.2 untethered jailbreak. New version brings localization for French, German, and Chinese and fixes some bugs in Windows version.
You can download Evasi0n 1.5.3 here.
If you haven't jailbroken yet, you can find the our step-by-step tutorials here:
Official changelog:
Version 1.5.3
~~~~~~~~~~~~~
- Fix bugs with the Windows version.

Version 1.5.2
~~~~~~~~~~~~~
- Added French translation.
- Added Chinese translation.
- Added German translation.
- Updated bundled Cydia with localization fixes.
- Updated included Cydia package list.