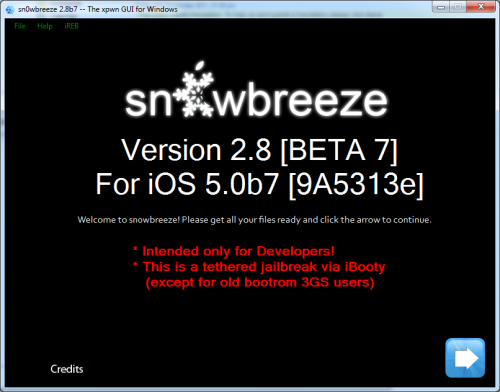 iH8Sn0w released Sn0wBreeze 2.8b7, which adds jailbreak support for the latest iOS 5 beta 7 firmware.
Sn0wBreeze creates custom firmware and allows users to preserve baseband for unlock (ultrasn0w doesn't work with iOS 5 yet). This new version also adds hacktivation and removes UDID developer check. This means that you can try iOS 5 without developer account from Apple.
You can download Sn0wBreeze 2.8b7 for Windows here.
sn0wbreeze v2.8b7 – Release Notes
———————————
* Now jailbreaks iOS 5 beta 7.
* Still removes UDID Developer check + Beta timer.
* Still has the ability to hacktivate.
* Still preserves the baseband (as always!).
———————————
Tethered?
———————————
* iPhone 3GS (old bootrom)…..NO
* iPhone 3GS (new bootrom)….YES
* iPhone 4 (GSM)…………..YES
* iPhone 4 (CDMA)………….YES
* iPod Touch 3G……………YES
* iPod Touch 4…………….YES
* iPad 1G…………………YES
———————————
** REMEMBER TO BOOT WITH "iBooty" **
———————————