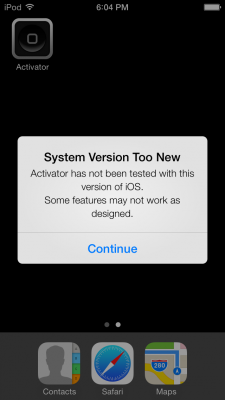 iOS 7 has been jailbroken. Popular iOS developer Ryan Petrich has posted a screenshot which appears to show Activator running on iOS 7.
Earlier today Petrich tweeted saying, "System version too new?". Alongside the tweet was the picture below. The picture shows the Springboard of an iPod touch with an Activator icon and a UIAlert window which reads:
System Version Too New
Activator has not been tested to work with this version of iOS. Some features may not work as designed.
Notably, this alert does not seem to be a UIAlert that could be generated from within a sandboxed application, suggesting that device may be jailbroken.
It's unclear what expoit was used by Petrich. Last year Apple had closed comex's developer account based exploit that had been used by hackers to root their iDevices for two years.
Hacker p0sixninja recently announced that he has "got a lot of amazing things coming to you all soon. think bigger than jailbreak

" It's been suggested that he may have found a bootrom exploit.